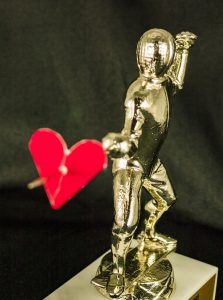 "Oh my God, Ray," said Valentine, sliding into his side of their usual booth with a tumbler of craft bourbon. "I just had the worst date of my life."
Ray cooly swirled his bourbon around an impossibly oversized single ice cube.
"Worse than the blind date your boss set you up on with a high school student who had never been on a date and showed up with her mom?" Ray asked.
"Technically, she had just graduated," Val corrected. "But, yes, even worse than that horror show."
"This ought to be good," Ray sipped. "Who was it with?"
"Remember that teacher we met at Josh's New Year's party? Lexi, his sister?"
Ray laughed, "Yeah. The party that ended when it turned into a drunken vomitorium."
"That's the one. But, if you will recall, you, me and Lexi were the only ones who didn't spew."
"Yeah," Ray agreed. "But, I thought you said she could be the one."
"I did," said Val, exasperated. "She's pretty, outgoing, smart, helps people, loves movies and literature. Nobody reads any more, but we spent hours talking and texting about not just books but the classics from the 20th century back to ancient Greece."
"She sounds perfect for you, so far," Ray said. "What happened?"
"Well, I set up a nice dinner on the town for our first real date. I put on a jacket and tie. The works. Then, just as I'm walking out the door, she texts that she is at some party her brother is hosting at a sushi place and wants me to meet her there.
"I can't stand sushi, but I want to look spontaneous and fun. 'Sure,' I say." Val took a sip before continuing. "I stroll into the place like I own it, and a party of two dozen people start cheering me on and welcoming me to the party with handshakes, hugs and encouragements like 'Go get her, Tiger,' 'She really likes you' and 'Great to finally meet you.'
"At the end of the gauntlet sits Lexi, red-faced but beaming."
Ray shrugs, "Aside from the venue-change ambush, not hideous, yet."
"Hang in there," Val reassures. "I sit down, and, before I can order a drink, Josh is like, 'Hey, we should go dancing.'
"You know I've got some moves, so I'm down and we all pile into a bunch of cabs. I'm with Lexi, some blonde chick and her boyfriend. Lexi and the blonde are smashed out of their minds and giggling at total nonsense. Me, the driver and the boyfriend are just hopin' the girls don't puke before we get to the club.
"Once there, some 60-something-year-old guy with our group gets us all in for free, which is great because the cover was insane, like 50-bucks a head. The inside of the joint is more like a movie night club than a real-life-people-spillin'-drinks-all-over-the-dance-floor night club. It's clean, swank and chill.
"Before you know it, Lexi's got me on the floor, and she's ridin' my thigh like a derby horse and rubbin' her breasts on me like she's trying to set my shirt on fire. Then comes some deep French kissing, and I'm thinking this has to be the best first date ever."
Ray's smiling. "That's what I'm thinking. So, what's your problem?"
"Well," Val explains. "The music stops and she whispers, 'Hey, that guy who got us in looks a little lonely. Mind if I have a dance with him to thank him for getting us in, and then we can get outta here.'
"She gave me a naughty grin, and I said sure with a naughty grin of my own.
"I head for the bar and order a double to catch up a little to her. When I get back to the edge of the dance floor, she starts mackin' on the old guy."
"Uh-oh," Ray interjects.
"Yeah," spit Val, incredulously. "The dude I rode over with in the cab with the girlfriend is the old guy's nephew. He looks nervously at me and starts trying to peel Lexi off his uncle.
"Before you know it, Lexi is all over the nephew, and he clearly is not into it as he looks back and forth between me and his girlfriend."
"Why aren't you doing anything, man?" Ray asks.
"By now it is like a train wreck, where I can't stop staring. So then the nephew's blonde girlfriend intervenes. She and Lexi start dancing like girls sometimes do to ward off unwanted guys…and then they start makin' out like some kind of porn movie. Deep kissing and aggressively groping each other.
"The nephew and I exchange befuddled what-the-fuck glances, and Josh walks up with his girlfriend and absolute astonishment on their faces.
"Josh says, 'Oh my God, Val. I have never seen my sister like this before. I swear she talked about nothing but you all dinner.' His girlfriend agreed with a stutter, 'It's true. I'll, I'll dance with you if you want.' But mostly the four of us just stood there staring in disbelief."
Ray interrupted, "I don't know, man. Sounds like a lot of fun to me. I can see you going with a nymphomaniac."
"I wouldn't mind a nympho," Val explained, "as long as she was exclusive. Remember, I went into this thing thinking she'd be my future wife and soul mate, not the main attraction at the Playboy mansion. Anyhow, there's more."
"There's more?" Ray asked, signally to the waitress for another round.
"Lexi and the blonde walk over, and Lexi grabs me by the belt and takes me to a table. I knock what's left of my double back as she catches her breath. 'I guess nobody puts Baby in a corner,' I said, regaining my senses, and she laughs. 'You're the coolest guy ever,' she said. 'Get our coats and take me home.'
"I get our coats, with every intention of pouring her into a cab and sending her home alone. I don't have a big enough medicine cabinet to cure all that she might be carrying.
"When I get back, our group has put a bunch of tables into an oval for everyone to sit around. It is dark in the club, and I don't see Lexi at first. Her brother–a dude–holds my hand and asks that I be a gentleman. I promise, he lets go and I spot Lexi with the blonde at the other end of the oval. As I get closer, it is obvious they are Frenching. Standing next to them, I see the blonde has her hand up my date's sweater, fondling Lexi's left breast.
"Lexi opens her eyes in near ecstasy and just whispers, 'Ice.'
"Yes, she's getting an ice-cube nipple massage in front of a table of 24-people and whoever else is in the club."
"Holy shit," says Ray, snorting out a laugh. "Happy wife, happy life. What did you do next?"
"I was kinda still letting it all soak in, when Lexi grabbed my tie, pulls me down, Frenches me and purrs, 'I hope that wasn't too weird for you.'
"'Nah,' I said. 'Happens to me all the time. Here's your coat. I'm outta here.'"
"You didn't," Ray cackled. "You coulda had the freakiest sex of your life that night."
"I didn't want the freakiest sex of my life," Val said, still injured from the experience. "I wanted this to be true love. I was in wife-hunting mode not porn-star hunting mode. I was really pissed and hurt."
"Man," Ray explained. "That's your problem. You're always looking for true love and a wife."
"What's wrong with that?"
"Nothing, but you're looking for perfection, a fantasy—not a real woman."
"I am not," Val protested. "I have tons of quirks, and I want a quirky woman who matches my quirks while being perfectly funny, charming, brilliant, hard-working, carefree and witty."
"Right," said Ray. "You want a character in a movie—someone played by Meg Ryan, Reese Witherspoon or Drew Barrymore—not even the real women who play those characters—you just want the characters."
"Hey, if somebody can write and portray those types of characters, there has to be some basis in reality for them," Val countered.
"No there doesn't," Ray disagreed. "Only Germans go to movies to see hard, cold reality. Most people want to escape. They want fantasy. Those romantic comedies are huge hits because they are about what we all want to experience and believe."
Val gave Ray a dubious look, so Ray pressed ahead.
"Did you ever study psychology in college, Val?"
"No. Not really."
"It was my major," Ray explained. "The number one thing it taught me is that we're all crazy. Crazy isn't a girl thing. It isn't a guy thing. Everyone is bat-shit crazy. I kinda like the term, fith. Fucked In The Head."
"No we're not," Val blew Ray off.
"Seriously," Ray said. "Who knows? Lexi and that blonde probably think that you're off your rocker. Why? Because you are crazy. I'm crazy. Everyone in this bar is crazy in some way or another."
Val looked around the intimate setting of the trendy, urban bourbon distillery and shook his head. "The only insane person here is you."
"Emotionally disturbed would be the more politically correct phrase to use, but to counter your point: No. We all are."
"How?" Val asked.
Ray finished his drink and ordered another round, thinking about his answer. After a minute, he asked, "Let's say you can magically find true love in this bar tonight. Okay?"
Val shrugged. "Sure. I'll play along."
"Okay," Ray said. "Let's calculate the odds. First, it should be noted that this a not a well-represented selection of the American public at large. While it is close to a 50/50 split of men and women, they range from their late twenties to early forties, appear single and affluent enough to blow $15 per rocks glass on hand-crafted bourbon in a major American metropolis."
"That's a fair assessment," Val agreed.
"How many people do you think are in here?" Ray asked.
"Maybe around 100."
"Perfect," Ray said. "Now, can I assume you're still straight?"
"Be my guest," Val invited.
"Great. Let's get started," Ray began, while scanning the room. "Right away we can eliminate 50 people from this room as mates because you don't want to sleep with a dude. But, the odds are that roughly 10% of people are gay. That eliminates 5 women who would never want to sleep with you."
"My gaydar isn't perfect," Val confessed, surveying the bar, "But, you haven't lost me, yet."
"Did you know that reports show and predict between 25% and 75% of women and 10% to 50% of men will experience sexual abuse in their lifetimes. That alone will mess with anybody's mind, but that doesn't even begin to factor in other forms of abuse and issues with somebody's parental upbringing, religion, peer-to-peer problems and simple biochemistry. That doesn't mean that anybody who experiences any of these problems can't love, enjoy sex or be the perfect lover for you or me—or we them. BUT, most people aren't going to be the problem-free people we see portrayed on screen in rom-coms."
"Really? That many people are abused?" Val asked, squinting to see if he could identify the people in the crowd who might be victims.
"Sadly, yes, the numbers are high, but it isn't as if everyone is going to wear a badge proclaiming what happened to them."
"Huh," was all Val said, letting the information sink in.
"Of course," Ray said, with a dark little laugh. "The statistics get pretty outrageous when you do the math."
"What do you mean?"
Ray took a deep breath and wound himself up.
"I love stats, and, well, I'm kinda obsessed. In fact, did you know that about 1 in 100 people have obsessive-compulsive disorder, 2.5% have Attention-Deficit Hyperactivity Disorder, 2% are bipolar, nearly 10% are dealing with some other clinical form of depression, up to 2% have separation anxiety, up to 1% have selective mutism where they won't talk under various circumstances, up to 9% have a specific phobia like spiders or heights, 7% have social anxiety disorder—they likely self-selected out of this sample set, up to 3% of people have random panic attacks, nearly 3% have general anxiety disorder, 1.7% agorophobic—again, self-selecting out of this bar, 9% have post-traumatic stress disorder and up to another 20% are dealing with a milder form of PTSD, 1.5% have multiple personalities, nearly 2% of people have some sort of amnesia, up to 7% are hypocondriacs, roughly 3% of people have eating disorders, up to 10% have insomnia and 1% are hypersomnolent, 3.6% sleepwalk, up to 15% have sleep apnea, oh, this one's fun…1% of American adults pee on themselves at least 3 times a week when there is nothing wrong with their urinary tracks…like bedwetting or even peeing on themselves in the middle of the day."
Ray took a breath before rattling off more. "3% are oppositional defiant, up to 7% have clinically significant anger issues, 1% are pyromaniacs, 4% have addicitions—again, we might have a skewed sample set here, up to 4% are paranoid, roughly 13% have anti-social issues, up to 6% are narcissists, up to another 6% are impulsive and unstable to the point they can't maintain a consistent, meaningful long-term relationship of any kind, up to 30% of men are frotteuristic, up to 30% of people get off on sexual sadism and it is estimated that up to 33% of Americans have at least one sexually transmitted disease."
Ray took a drink. "And don't get me started on diseases. Did you know that 10% of Americans have toenail fungus, 10% diabetes, up to 15% irritable bowel syndrome and 23% arthritis. I've also read that 7% of Americans don't bathe, 6% can't ride a bike, 33% of adults sleep with a comfort object like a Teddy bear or security blanket, 15% honestly believe that the world will end during their lifetime, 45% believe ghosts and demons are real, 25% still think the sun goes around the earth and, for Christ's sake, 2% of Americans really think Sen. Mitt Romney's real first name is Mittens!
"Do you know how many percents of America all of that adds up to?" Ray asked, cooling down and taking another sip of bourbon for effect.
"A lot of percent," Val said, still trying to catch up.
"That's 443.3%," Ray stated.
"How's that even possible?" Val asked. "I thought you can only have 100% of anything."
"There are more problems and diagnoses than people," Ray explained. "Maybe that blonde over there is a sexual sadist with irritable bowel syndrome, insomnia and explosive anger issues. Perhaps that redhead is a hypochondriac who is terrified of bunny rabbits and sets fires while losing control of her bladder. Maybe that brunette is a depressed alcoholic who will fight you for the next 4 hours, insisting that Mitt Romney is really Mittens Romney, not Willard."
Val laughed.
"Okay, Ray. What's the point? True love doesn't exist?"
"That's not the point," Ray replied. "While I admit Lexi probably isn't the right girl for you, you've got to stop looking for perfection and accept that everybody if fith in one way or another. Look for the crazy that matches your crazy, and you might find some lasting happiness."
Author's Note: The statistics cited in this story come from the American Psychiatric Association, Centers for Disease Control, National Institute of Health and other reputable sources. Also, if Val's dates sound too unrealistic, although the names and places have changed, those really were dates I went on. No other details were changed. Thank goodness I've finally met a woman as charmingly crazy as myself to marry.