To the astonishment of many long-time pen collectors, the Wearever brand has been gaining a lot of second looks in recent years.
Although Sheaffer and Parker routinely vied for the title of the biggest and best fountain pen manufacturer from the 1920s through the 1960s, another brand beat them out on sales volume: Wearever.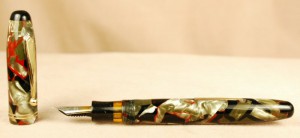 Honestly. Although a second–and even third–tier pen company, Wearever sold huge quantities of pens, particularly in the 1940s and '50s. How did they do it? Looks and price. Some of their highest quality pens, such as the Wearever Deluxe 100, only cost one greenback dollar. Their plastics proved very durable, and the company focused a lot of attention on making the pens very attractive…often stealing, I mean, being inspired by the designs of leading pen makers. Just look at the similarity between this Wearever Deluxe 100 and Parker Parkerette.
The cost cutting came on the quality control side of things. While some of their "special alloy" nibs wrote very smoothly, many were scratchy and troublesome.
Many collectors, tired of being priced out of the ultra popular brands, are turning to these handsome vintage pens to beautify their collection while these pens are still affordable.
Overlooked for so long, there appears to be very little information about this company from North Bergen, New Jersey. Reasonable rumors state its history extends back into the late 1800s. We are very curious about this company and would love it if other fans of the brand were able to contact us with more details.