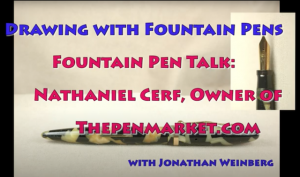 Since moving to Connecticut, I've befriended the artist and painter Jonathan Weinberg, who also happens to be the founder of the Charter Oak Pen Club and curator at The Maurice Sendak Foundation. (Yep, that Maurice Sendak who wrote "Where the Wild Things Are.")
This week, he invited me on to his podcast, "Drawing with Fountain Pens." It is a fun show in which he explores his passion for pens, ink and drawing. In this episode, he interviews me and we discuss some of my favorite pens and how I got into the hobby and business of vintage pens and modern pens.
I hope you like our discussion. If you do, please be sure to subscribe to his podcast. Thanks!
To see some of his artwork, check out jonathanweinberg.com.