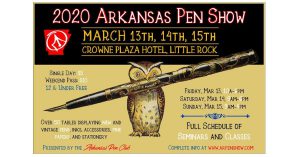 Honestly, I haven't even caught my breath from the Baltimore Pen Show, and now I'm heading out the door to attend the Arkansas Pen Show in Little Rock! Wowzers!
If you are anywhere within a few hundred miles of Little Rock this weekend (March 13 – 15), you have got to come out and see the Arkansas Pen Show. It is the biggest little pen show in the world! It is
A.) Hyperfriendly
B.) Very Well Organized
C.) Loaded with Amazing Vintage & Modern Writing Instruments & Ephemera
D.) Chocolate Bacon! Vanness Pens, who is the most famous ink seller online, hosts an after-hours party in its shop every year, and they always have a healthy supply of chocolate-dipped bacon. If you have never had such a delicacy, I can understand if you are skeptical. But, once you've had one bite, you will be addicted and a choco-bacon believer.
E.) Springtime! Every year I attend, flowers are blooming in Little Rock. Greenery is coming back to life. If you're tired of winter, get your frozen butt down here to enjoy a little of what us northerners won't see for another month or two.
As for pens, we've reloaded with dozens of new pens not yet available online. From vintage third-tier pens to Sheaffer TouchDowns and Snorkels to Parker Vacumatics to preowned luxury Waterman and Yard O Led, we've got tons to please pen lovers in the western portion of the American South.
I told you. I haven't had a chance to catch my breath since the Baltimore Show. And Baltimore put on a fine pen show, indeed. This was my first year in attendance, and I was amazed by the organization, friendliness and crowds. Bert Oser and his crew put on a delightful event that was great for shaking off the winter rust as pen show season springs back to life.
Customers I've known for years but have never met in person came to say hi. We met a lot of new-to-us pen lovers. And it was great seeing so many younger, newer-to-collecting pen enthusiasts at the show. It was a blast introducing people to vintage pens, while learning about the tastes of more seasoned veterans in the world of pens.
Thanks to all those who made Baltimore so special, and I can't wait to see y'all in Little Rock!