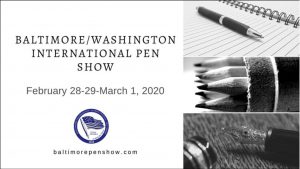 For the last several years, we have heard about the splendor of the Baltimore Pen Show. This is what we've heard: It is well organized by our buddy Bert Oser. It is a premier place to buy and sell premier luxury pens. It is well advertised to the public, and it is becoming the premier pen show in the country.
This year, we are going to experience it for ourselves to see if it is all true. We have spent the past month restoring dozens of vintage pens and prepping never-before-seen-on-our-site luxury pens.
PLUS, for showgoers, we have dropped some of our prices to clear out some of our luxury inventory.
On a personal level, this is my first trip to Baltimore. I bemoan the fact the Orioles aren't yet playing, as I'd love to see a game at Camden Yards, but I hope to have some fun exploring the waterfront and old Fort McHenry, home of "The Star-Spangled Banner," if there's time.
And, of course, the very best part will be getting to hang out with old friends at a new location, while also making new friends at a show I've never seen before. Please be sure to come check it out and say, "Hi."