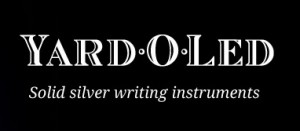 In the next several days we will be taking down Yard-O-Led from our "New" pens pages. It is a shame, as we never fully explored them as we had hoped. There was just too much going on to post all of the available models.
Recently, we learned our distributor would no longer carry the brand. Until we find out who the new distributor is, we are down to our last pencil and ink bottles.
We are out of the Astorias listed on the New Pens pages, but we still have a classically handsome sterling silver Regent pencil. It is available on our "Preowned" pens page, but it is completely brand new with its warranty, box and polishing cloth. It is a remarkable pencil whose design dates back to Victorian England. The various imprints on the pencil are hallmarks of purity authorized by the crown.
In addition to the Yard-O-Led Regent, we have several remaining bottles of ink still for sale.
Once these items have sold, they will be gone for a very long time. Get 'em while you can.