The one ink brand everyone is always talking about is Noodler's Inks. People either love it or hate it. There doesn't seem to be a lot of middle ground. As such, we want to add our two cents to this conversation, and we surprised ourselves with our tests and findings.
Controversy seems to follow in Noodler's wake, and, yet, it doesn't seem to disrupt people's passion for the ink. From the stains-everything-it-comes-into-contact-with Baystate Blue to clever (and occasionally offensive to some) ink names and label designs, Noodler's is always a top-selling ink.
I first got hooked on their ink with "Antietam" ink. As an armchair Civil War historian, I knew Antietam was this single bloodiest day of fighting in all of America's wars. There were nearly 23,000 casualties at that battle. I got a macabre kick out of the Antietam ink looking like fresh blood when wet and dried blood when dry. It remains my red ink of choice. The ink has never clogged my pens or created any problems.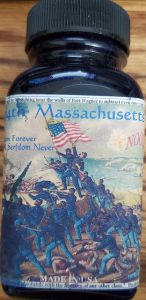 However, my favorite of their ink names is "54th Massachusetts." As a regiment, it is the most famous African-American regiment of the Civil War. If you've seen the movie "Glory," with Morgan Freeman, Denzel Washington and Matthew Broderick, it is that regiment. The American uniforms in the Civil War were blue. The men of this regiment were black. The ink color is blue-black. A clever ink pun. Unfortunately, as beautiful as the ink is, it clogs the hell out of my pens.
As a matter of fact, virtually every other Noodler's Ink I have ever written with clogs my pens. As such, the only ink I use is Antietam, and I don't recommend any other Noodler's to anyone, unless they are only writing or drawing with dip pens.
Nevertheless, when I bought a large collection of ink several years ago, it came with a large selection of Noodler's. As such, Dawn and I thought we'd put it to the test. Today's selection remained in my sunniest window for 9 months. We also pH tested the ink to see how potentially corrosive it might be. As a quick refresher the scale between acid and base runs from 0 through 14, with 7 being neutral, such as pure distilled water. As always, we calibrated our testing equipment before testing the inks.
We were absolutely stunned by how light-fast these colors were. At worst, they lost a little of their luster and vibrancy after 9 months of sunlight. Most didn't lose anything! Very impressive.
Noodler's Ink also claims its is pH Neutral. We did not find that to be the case in these 11 inks sampled. However, they were much better regarding pH neutrality than many other brands. The important thing to keep in mind is that just because an ink is pH neutral doesn't mean it doesn't have ingredients that will still corrode your rubber ink sacs, diaphragms and seals. We did not test these inks in rubber ink sacs. The pH results below are simply raw data points.
Noodler's Ink Name     pH
41 Brown                     8.4
Kiowa Brown              8.5
Golden Brown            8.1
Cayenne                      7.8
Apache Sunset           7.5
Polar Green '09          8.7
Dark Matter                8.6
Nightshade                 8.4
Purple Heart               8.5
Gruene Cactus           8.3
Zhivago                        8.7
In conclusion, these 11 Noodler's Ink were amazing for their color-fast testing. The pH is a little on the base or alkali side but no where near as far off the mark as many other ink brands.